Welcome!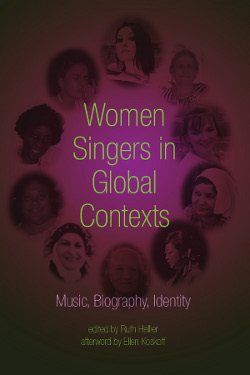 This is the companion website to accompany the printed book, Women Singers in Global Contexts: Music, Biography, Identity, edited by Ruth Hellier, with an Afterword by Ellen Koskoff.
If you haven't yet bought the book, now is the time to do so – so that you can read about these amazing women singers.
Exploring and celebrating individual lives in diverse situations, Women Singers in Global Contexts is a new departure in the study of women's worldwide music-making.
Ten unique women constitute the heart of the book: each one has engaged her singing voice as a central element in her life, experiencing various opportunities, tensions, and choices through her vocality.
Through this website you have the opportunity to hear these women singing.
Enjoy!
Ruth Hellier-Tinoco, PhD
rhellier-tinoco@music.ucsb.edu
University of California, Santa Barbara, USA.
---
Songs of Connection and Celebration by a Torres Strait Islander

Finding Acclaim in the Conservative Islamic Culture of Afghanistan

Telling the Musical Life Stories of a Hereditary Jiuta Singer of Japan

Musical Echoes and the Poetics of a South African-American Musical Self